Fond Jaroslava Seiferta v Památníku národního písemnictví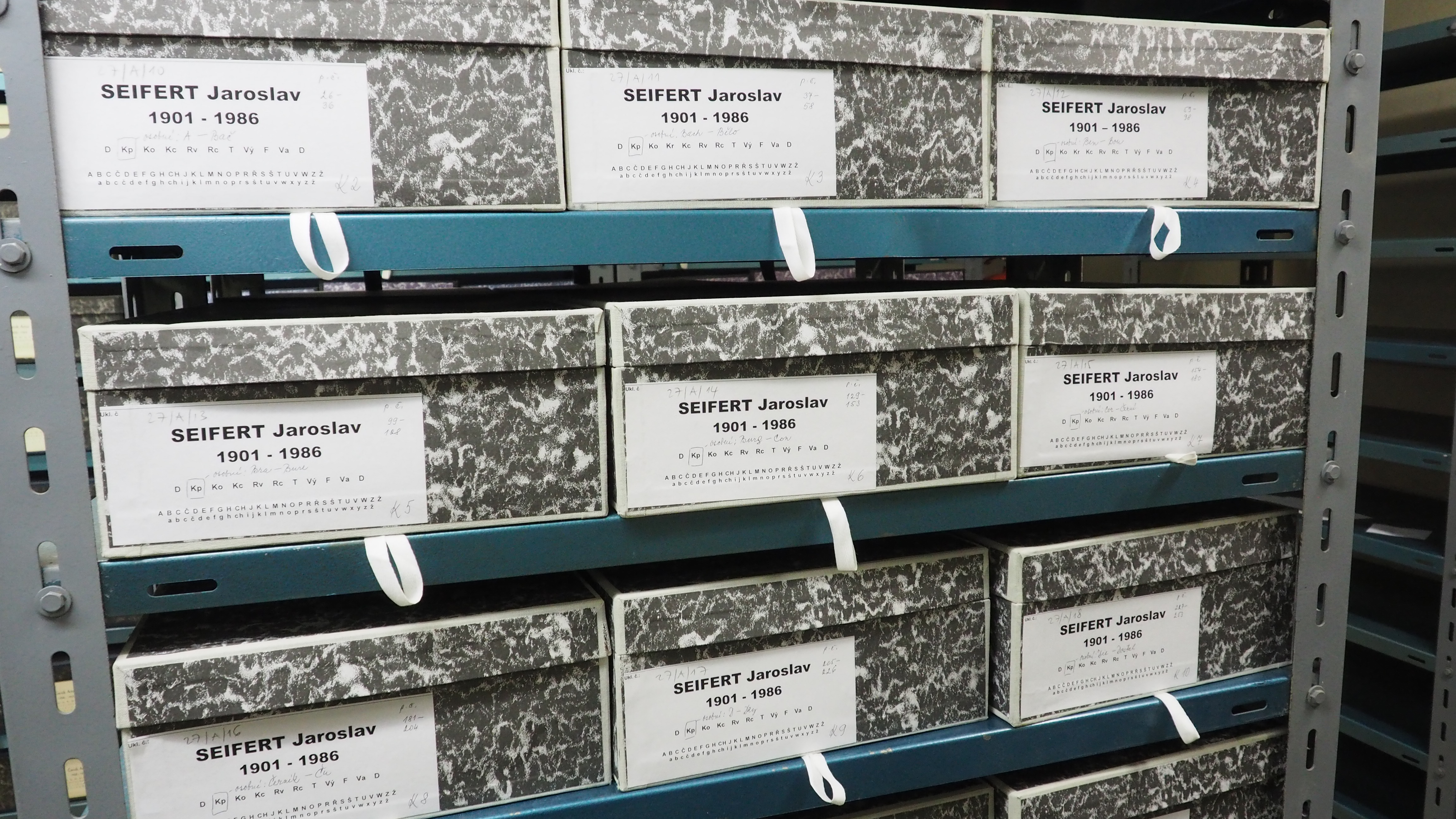 The personal collection of Czech poet, journalist, writer and the Nobel Prize laureate Jaroslav Seifert (1901–1986) contains a unique correspondence, manuscripts, prints and clippings documenting the life of the important author, who was a critic of the communist regime from 1950 and a silenced poet and a representative of Czechoslovak independent literature after August 1968.
Kilmė ir kultūrinė veikla
Poet and translator Jaroslav Seifert was among the most important Czech authors. His voluminous poetic work underwent complex inner development and so did its author's relationship with communism. Erstwhile communist Seifert, expelled from the party in 1929 for opposing its Bolshevisation, ended up in an "inner emigration" after 1948. In 1956, he held a "de-Stalinization" speech at the Congress of Czechoslovak Writers, in which he criticized the developments in cultural politics after 1948. In the 1960s, Seifert participated in the reform of the communist system and efforts to establish an autonomous writers' union in the years 1968/1969. In the 1970s, his work could appear only sporadically in re-editions. Despite his signature appearing under the Declaration of Charter 77, the communist regime could not fully ignore this important author; his newer verses began to be publishing by official publishing houses and in 1984 his work was awarded the Nobel Prize in Literature.

Jaroslav Seifert sold the first part of his collection, a manuscript of memoirs "Všecky krásy světa" ("All Beauties of the World"), to the Museum of Czech Literature (PNP) in 1978. This sale was mediated by an employee of the acquisition department of the Literary Archive of the PNP, Marie Krulichová. Officially, the Museum of Czech Literature purchased materials from the antiquarian bookshop in Václavské náměstí in Prague that had previously bought them from Seifert. At that time, antiquarian bookshops in Czechoslovakia were obliged to offer literary archival materials to the PNP. The Museum of Czech Literature then often also bought materials from unofficial or "banned" writers and poets from these bookshops, usually at the prices suggested by the bookshops. Thus, via these purchases, employees of the Museum of Czech Literature not only (financially) supported representatives of unofficial or forbidden culture before 1989, but they also collected and stored documents for the future historians and literary scientists. Purchases of Jaroslav Seifert's manuscripts continued in the following years, most often through Prague antiquarian bookshops. The photographs of Jaroslav Seifert's funeral by Jaroslav Krejčí were purchased in April 1986 through the Czech Fine Arts Foundation. After the fall of the communist regime in Czechoslovakia in 1989, the Museum of Czech Literature continued to collect personal collections of representatives of Czechoslovak unofficial culture, dissent or exile. The Jaroslav Seifert Collection was extended as well. After 1989, the Museum of Czech Literature bought some further documents related to Seifert's life and work. The collection was extended also thanks to several donations. Purchases from private antiquarian books continued as well. Jaroslav Seifert's personal collection, stored in his house in Prague, was sorted by his daughter Jana Seifertová-Plichtová and literary historian Marie Jirásková. In April 2014, Jana Seifertová-Plichtová, in agreement with Petr Kotyk, employee of the acquisition department of the Literary Archives of the Museum of Czech Literature, donated Seifert's correspondence, stored in 53 boxes, to this archive. This correspondence, as well as the whole Jaroslav Seifert collection at the Museum of Czech Literature, is currently (2018) being organized.
Turinio aprašymas
The Jaroslav Seifert collection contains incoming and outgoing correspondence, his own and others' manuscripts, and photographs documenting the life of this prominent poet, who had criticised the communist regime since the 1950s and became a "silent" poet and representative of Czechoslovak independent literature after 1968. It consists of 63 boxes.
Turinys
fotografijos: unknown quantity
rankraščiai (ego dokumentai, dienoraščiai, užrašai, laiškai, brėžiniai ir t.t.): 1000-
Operatorius (iai)
Savininkas(ai)
Geografinė pastarojo meto veiklos aprėptis
Įkūrėjai
Turinio kūrėjai
Kolekcijos sudarytojas(i)
Svarbūs įvykiai kolekcijos istorijoje
Charakteringi eksponatai
Nuorodų sąrašas
Janouch, František. 1995. Šel básník chudě do světa: Nobelova cena pro Jaroslava Seiferta. Praha: Český spisovatel.
Badatelna.eu. 2018. "Literární archiv Památníku národního písemnictví - Seifert Jaroslav." Accessed September 7. http://www.badatelna.eu/fond/2799/.
ÚČL AV ČR. 2007. "Slovník české literatury po roce 1945: Jaroslav Seifert." Last modified January 17. http://www.slovnikceskeliteratury.cz/showContent.jsp?docId=1114.
The description of this collection was created with the kind help of the director of the Museum of Czech Literature (PNP) Mgr. Zdeněk Freisleben, the head of the Literary Archive of the PNP PhDr. Tomáš Pavlíček, PhD., and the curator of the Literary Archive of the PNP PhDr. Petr Kotyk.
PNP. 2018. Výroční zpráva 2017." Accessed July 11. https://drive.google.com/drive/folders/1gFkIAgtZwd1eqgU3AZcbMV7Kt3GWzZ5Y?ogsrc=32.
Kotyk, Petr, interview by Kůželová, Michaela, May 24, 2018. COURAGE Registry Oral History Collection
2020-03-04 09:33:07