A Cseke-Gyimesi Éva Gyűjtemény donációja a kolozsvári Központi Egyetemi Könyvtárnak (a Magyar Irodalomtudományi Intézet könyvtárának), 2011-2013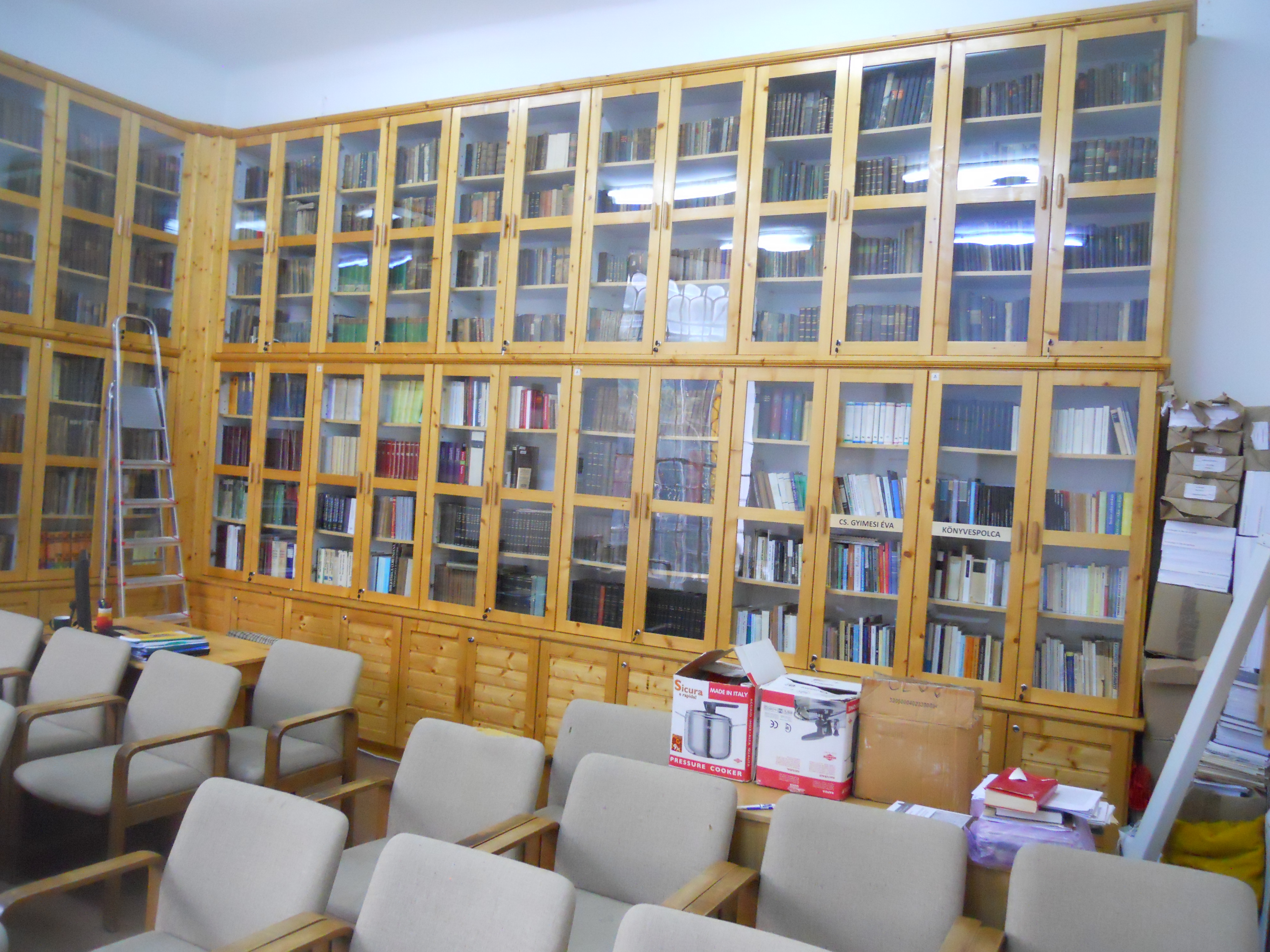 The greatest event in the history of the Éva Cseke-Gyimesi Collection was the donation to BCU Cluj-Napoca. The book donation handed over in June 2011 was processed in 2012–2013 by the library of the Institute of Hungarian Literature which is a subsidiary of the Central University Library. The latter is part of the Library of the Faculty of Letters Branch – Section Hungarian Department, which is located on the first floor, in wing A of the Faculty of Letters, and has served the Departments of Hungarian Language and General Linguistics, Hungarian Literature, and Hungarian Ethnography and Anthropology since 1990. The evolution of the book stock of this section of the library of the Faculty of Letters was influenced by the administrative and legal transformations of the departments with Hungarian as the language of teaching. The first inventory register of the library contains the titles of publications acquired in the period between 1902 and 1912. The majority of publications featured in this library come from donations made by various teaching staff members and personalities, but there are also publications bought from private libraries. Thus, in 1941 the private collections of Elemér Császár and Gyula Baross were acquired, both renowned Hungarian literary critics. Consequently, the book stock of this library was enriched by a number of 8,308 volumes, giving a total by the end of 1941 of as many as 12,000. At present this fond constitutes the old stock of the library. Similarly, a part of the book stock of the Hungarian Civic Circle of Sibiu, dissolved in 1944, can be found in this library and at the Romanian-Hungarian section. The library contains 14,812 volumes and 175 titles of periodicals, in addition to the 12,000 volumes in the old stock. Apart from the Gyimesi Éva collection, it is home also to the Zoltán Szabó collection which features 900 books and 25 periodicals (Library of the Faculty of Letters Branch – Section Hungarian Department 2018).
The registration of volumes of the collection donated was carried out under the label Fond Gyimesi Éva. Moreover, the book legacy bearing the sign "Cs. Gyimesi Éva Könyvespolca" (Cs. Gyimesi Éva Bookshelf) was displayed in a visible place in the library hall. The documents, amounting to three boxes, were donated in August 2013 and have not been processed yet. The family have not placed any restrictions on research and have not classified the documents as confidential. It is planned to resort to group work involving students to process this material. These efforts imply the setting up of an inventory list that will allow public access as well so that this part of collection can become available for scholarly research.
metai, kai įvykis prasidėjo
Pagrindiniai veikėjai
Nuorodų sąrašas
"Biblioteca de Litere – Secția Catedra maghiară. 2018" (Library of the Faculty of Letters Branch – Section Hungarian Department). 2018. Accessed August 24, 2018. https://www.bcucluj.ro/hun/node/194
Balázs, József Imre, Berszán, István, interview by Jánosi, Csongor , March 27, 2017. COURAGE Registry Oral History Collection
2018-09-03 18:26:11