Karl Laantee isikuarhiiv Tartu Ülikooli Raamatukogus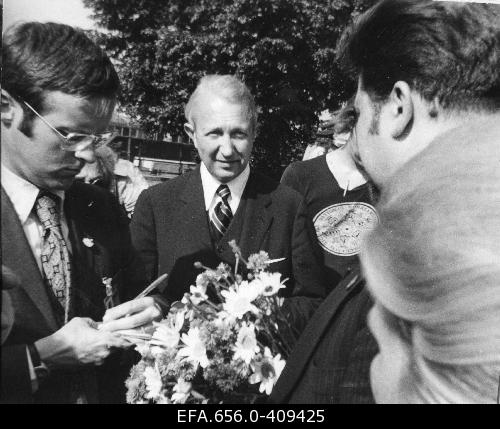 The collection contains documents about Estonian emigré communities in the West, primarily on political and religious subjects. Additionally, it includes material in the Estonian language about the Voice of America radio station. Furthermore, the collection boasts extensive material about the dissident movement in Estonia in the 1980s.
Kalbos
Estų
Ispanų
Rusų
Vokiečių
Interneto svetainė
Kolekcijos pavadinimas
Karl Laantee personal archive
Kilmė ir kultūrinė veikla
The collector of the contents was Karl Laantee, a foreign Estonian political activist, theologian and announcer with Western propaganda radio. The archive is a by-product of his activities. Karl Laantee collected material about his own activities in various fields. He used the collection much during his lifetime. During most of his life, the collection was private. Karl Laantee donated part of it to the Estonian Literary Museum in 2006. After his death in 2007, the remaining part of the collection was kept by his daughter Tiina Ly Laantee. She donated the collection to the University of Tartu Library. Therefore, the archive is divided between the two organisations. The University of Tartu Library holds more than 500 thematic maps created by Laantee himself.

It is not known exactly when Karl Laantee started to collect the material for his archive. There are a few records dating from even before his birth. The oldest document in the collection is a book from 1897. A clear increase in the number of records starts in the 1950s. Therefore, it is safe to assume that he started to collect records with his move to the United States in 1949.

The collection contains material from Karl Laantee's studies, work and personal life, covering nearly 50 years. It incorporates records from his studies at various universities in the United States and Sweden in the 1950s and 1960s. Most of the records are related to his religious activities. It also includes records from Soviet Estonia. In the 1980s, Laantee was a radio announcer with the Voice of America radio station, and the collection holds authentic material from Soviet Estonia, including messages from the resistance in Estonia. In addition to records about the resistance in Soviet Estonia, there are documents from Estonian political activists abroad. The collection contains correspondence by Karl Laantee. The existence of the collection was most likely not known to the authorities in Soviet Estonia. However, the authorities tried to jam the Voice of America radio station.

Foreign Estonian material was the focus of Estonian academic research in the 1990s. Since the Karl Laantee collection arrived in Estonia in the middle of the 2000s, long after the first foreign Estonian archives, it has not been widely used yet. Academic studies about the collection, or for which the collection is used as a source, have not yet been published. Karl Laantee himself published a selection of his speeches and articles from 1948 to 1994, in a book called Lootus vabaduse taevavõlvi ülalhoidjana (Hope as a Holder of the Firmament of Freedom: Speeches and Writings about Freedom, Human Rights, Independence, and National and International Relations. Historic Documents from 1948 to1994, Tartu, 1994).

Nowadays the collection is open to the public. It is used mostly by researchers and university students.
Turinio aprašymas
The collection contains 574 thematic folders collected by Karl Laantee, covering nearly 50 years. Miscellaneous folders contain mainly letters, speeches, photographs, newspaper articles, information material, postcards, research papers, books, radio show scripts, material related to studying and teaching at universities, notes, music pamphlets, invitations and sermons. The collection is interesting as a source of information about the cultural dissident movement, because during the 1980s, Laantee was an announcer with the Voice of America radio station, an American propaganda station which broadcast to Soviet Estonia. It was an alternative source of information for the people of Estonia. The archive holds authentic material from Soviet Estonia, including messages from the resistance movement in Estonia. In addition, there are records documenting émigré political activity.
Turinys
fotografijos: 10-99
leidiniai: 10-99
pilkoji literatūra (archyvų dokumentai tokie kaip brošiūros, atsišaukimai, pranešimai, slaptųjų tarnybų bylos, apskaita, juodraščiai, susirinkimų protokolai): 10-99
rankraščiai (ego dokumentai, dienoraščiai, užrašai, laiškai, brėžiniai ir t.t.): 10-99
teisiniai ir/ar finansiniai dokumentai: 10-99
Operatorius (iai)
Įkūrėjai
Turinio kūrėjai
Kolekcijos sudarytojas(i)
Svarbūs įvykiai kolekcijos istorijoje
Charakteringi eksponatai
Publikacijos
Laantee, Karl. 1994. Lootus vabaduse taevavõlvi ülalhoidjana: kõnesid ja kirjutisi vabaduse, inimõiguste, iseseisvuse, rahvuslikel ja rahvusvaheliste suhete teemadel ajadokumentidena aastast 1948-1994 [Hope as holder of the firmament of freedom: speeches and writings abut freedom, human rights, independence, national and international relationships. Historic documents from 1948-1994]. Tartu: Greif.
Nuorodų sąrašas
Bernotas, Aili. 2013. Fond 184 Laantee, Karl. Inventarinimistu [190-?] – 2007. Tartu University Libary.
Väliseesti isikulooline andmebaas (VEPER). 2017. "Laantee, Karl." Accessed April 19. http://isik.tlulib.ee/index.php?id=1965.
Bernotas, Aili , interview by Koppel, Taavi , May 03, 2017. COURAGE Registry Oral History Collection
2020-02-26 17:22:44