Gotovac, Tomislav. Telefoniranje, 1981. Performans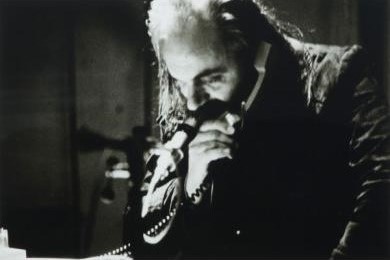 The fourth performance from the Homage to Josip Broz Tito cycle is ˝Telephoning˝ by Tomislav Gotovac. It was staged in the SC Gallery in Belgrade on April 5, 1981, and the photographs of the performance were done by Milisav Mio Vesović and Ognjen Beban. It is the only performance from the Homage Tito cycle that was not staged in Zagreb.
In the last subversive action, Gotovac waited for someone to inform him by the telephone that President Tito had died. With this performance, the artist additionally placed himself in a passive position by waiting for the information to come to him indirectly, not directly as in earlier actions via television, newspapers or radio, for one of his friends, associates or family to indirectly notify him about Tito's death. In this work, Gotovac used subversive activity, in which he did not criticize the regime, but rather encouraged the public and the regime itself to think.
Autorius
Padėkos
Museum of Contemporary Art Zagreb
Nuorodų sąrašas
1) Conversation with Zora Cazi-Gotovac and Darko Šimičić, January 9, 2018, Tomislav Gotovac Institute, Krajiška 29, Zagreb

2) Domljan, Žarko (ed). 1995. "Tomislav Gotovac." In Enciklopedija hrvatske umjetnosti, 307. Zagreb: Leksikografski zavod Miroslav Krleža
3) Gotovac, Tomislav. 2006. Antonio Gotovac Lauer: Čelična mreža = Steel net. Zagreb: Moderna galerija - Studio "Josip Račić"
4) Ilić, Aleksandar Battista, Nenadić Diana (ed). 2003. Tomislav Gotovac, monografija, Zagreb: Hrvatski filmski savez - Muzej suvremene umjetnosti
5) Marjanić, Suzana. "Živa slika, skulptura: ležanje kao živa mrtvost ili mrtva živost - oksimoron slike i skulpture." Kazalište 17, no. 59/60 (2014), 40-55.
Milovac, Tihomir , interview by Bencetić, Lidija , March 09, 2017. COURAGE Registry Oral History Collection
2018-02-24 16:22:38