Material for the Secretariat meeting, Pezo, Vladimir. Some issues on criminality and antisocialist phenomena among youth, 27 October 1960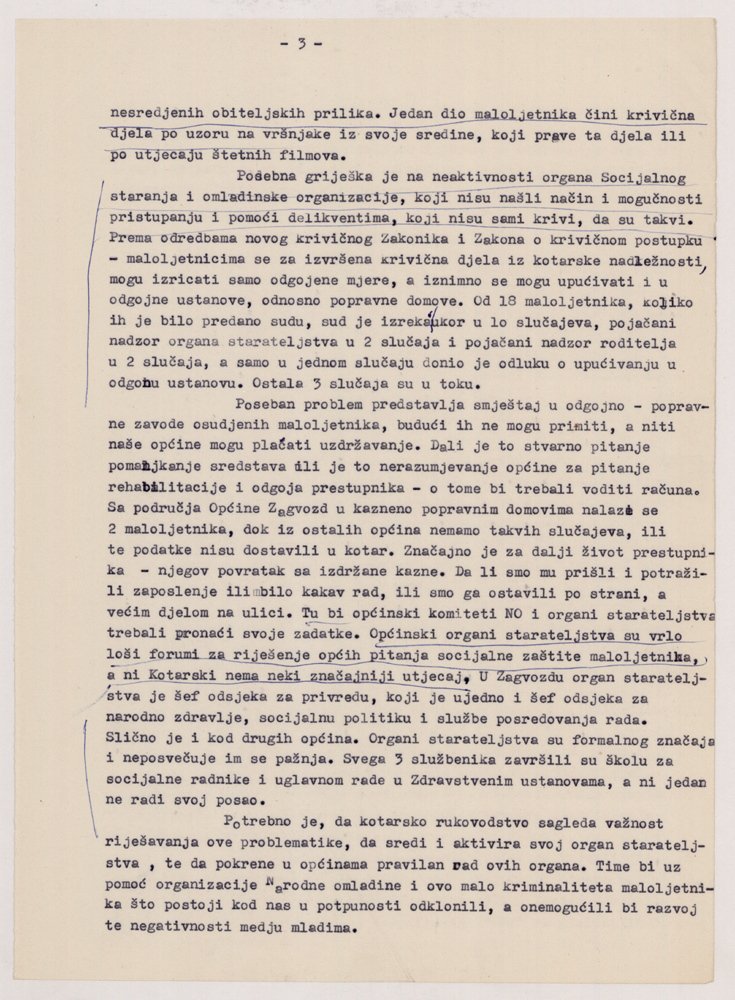 The document is an analysis of juvenile delinquency and the so-called anti-socialist occurrences among the youth in the area of Makarska, where the latter are notable as opposing activities. The document cites the oppositional activities of young people: the establishment of nationalist Croatian organizations in schools (e.g., "TIHO" - Secret Organization of the Croatian Intelligentsia, in which Ivan Gabelica was active), an expression of the opinion on the lack of freedom in the state by Bruno Bušić, the flight of the youths abroad and the catechization of the youth.
This PYC document, along with the records of other so-called socio-political organizations, was until 1995 a part of the Archives of the Institute of History of the Croatian Workers' Movement/Institute of Contemporary History. In July of that year, the archives were handed over to the Croatian State Archives (CSA), where they are kept today. It is not known whether this document has been used by researchers.
Autorius
Signatūra
HR-HDA-1231.3.4.4.8.14. Commission for ideological and political work of the Alliance of Socialist Youth of Croatia, Negative and hostile influences on the youth, 1949 -960, Material for the Secretariat meeting, Pezo, Vladimir. Some issues on criminality and antisocialist phenomena among youth, 27 October 1960
2017-07-18 10:28:50