Paraschiv, Vasile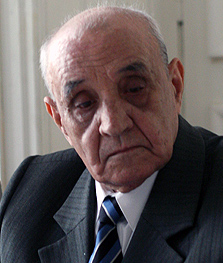 Vasile Paraschiv was one of those who repeatedly protested publicly against the Ceauşescu regime, from 1968 to 1989, for which reason he was several times admitted to psychiatric hospitals and diagnosed as mentally ill. Despite the abuses he suffered, he continually testified about the use of this barbarous method of reducing to silence all those who criticised the communist regime in Romania. Vasile Paraschiv (born 3 April 1928, Clinceni, Ilfov county, died 4 February 2011, Bucharest) was by occupation an electromechanical worker in Ploieşti and, politically speaking, a member of the Communist Party from 1946. In his biographical record at the Sighet Memorial it is mentioned that in 1968, when many others had only just entered the party because Ceauşescu had condemned the Warsaw Pact invasion of Czechoslovakia, Paraschiv renounced the status of Romanian Communist Party (PCR) member, because, according to his own account, he had come to understand that the party no longer represented the workers. Consequently he was arrested on 29 July 1969 and admitted to the psychiatric hospital at Urlaţi, Prahova county, but he was discharged after he declared a hunger strike. From this time on, the experience of psychiatric repression became recurrent in Vasile Paraschiv's life, and in time he became the most well-known witness to this type of forced marginalisation of those who publicly criticised the communist regime, which was practised constantly in Romania as in the Soviet Union, and to which there are a considerable number of testimonies.
On 3 March 1971, Vasile Paraschiv addressed to the Central Committee of the PCR and the General Union of Trade Unions in Romania a list of eleven proposals concerning the liberalisation of trade-union life. He was again arrested, and admitted to the psychiatric asylum at Voila, near Câmpina in Prahova county. In 1976, in a letter sent to Radio Free Europe, he expressed his solidarity with the former members of the Romanian Social-Democratic Party who had suffered political sentences in the first years of the communist regime. He was again admitted to the Voila asylum on 1 December 1976, and kept under observation till 23 December. The diagnosis that he received on this occasion was "paranoic psychopathy… delirious psychosis… pathological antisocial behaviour." In February 1977, he joined the so-called Goma Movement and signed the joint letter addressed to the Belgrade Conference on Security and Cooperation in Europe. Because he visited the Goma family's home in Bucharest in April 1977, after Paul Goma had already been interrogated in prison, Vasile Paraschiv was again arrested. After being interrogated by the Securitate in Ploieşti, he was admitted to the section for incurable, violent, and dangerous patients of the psychiatric hospital in Săpoca, Buzău county, where he was subject to physical violence and pharmaceutical treatment for mental illness. In 1978, Vasile Paraschiv made a visit to France, having been permitted to leave by the Securitate in the hope that he would not return. During his stay in Paris, he gave numerous interviews in which he exposed what was happening in the hospitals in which this psychiatric treatment was applied to those who criticised the communist regime in Romania. After returning from France, Vasile Paraschiv joined the short-lived Free Trade Union of the Working People of Romania in 1979, and for this he was again harassed by the Securitate. He was repeatedly arrested, especially during the last years of communism (1987–1989), when discontent with the Ceauşescu regime had grown considerably. The last period that he spent in prison was in the spring of 1989. In 2003, Vasile Paraschiv made a substantial donation to the Memorial to the Victims of Communism and to the Resistance. This contains important documents relating to his activity as a dissident, such as his 366-page letter addressed to Nicolae Ceauşescu, interviews, letters to Radio Free Europe, photographs, and two radio sets with which he listened to Radio Free Europe. These objects are exhibited in the museum collection of the Sighet Memorial.
Interneto svetainė
Gimimo vieta
Bragadiru, Clinceni, Romania
Autorius
Petrescu, Cristina
Pătrăşconiu, Cristian Valeriu
Nuorodų sąrašas
Paraschiv, Vasile. 2005. Lupta mea pentru sindicate libere in România: Terorismul politic organizat de statul comunist (My struggle for free trade unions in Romania: Political terrorism organized by the communist state). Iaşi: Polirom.
Paraschiv, Vasile. 2007. Aşa nu se mai poate, tovarăşe Nicolae Ceauşescu! Memorii după 20 de ani (Enough is enough, comrade Nicolae Ceauşescu! Memoirs, twenty years after). Bucharest: Curtea Veche.
2019-01-15 14:53:20