Composer bequest of Lajtha, László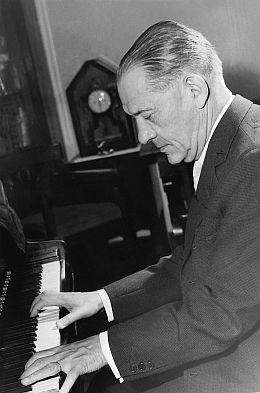 The legacy of composer László Lajtha provides insights into to the strategies adopted by an urban middle-class intellectual who made efforts to preserve the traditions of pre-communist classical cosmopolitan and national culture. By collecting cultural artifacts that would have been considered potentially oppositional by the regime, Lajtha, who was an internationally renowned composer, tried to sustain links to European culture across the Iron Curtain and to officially suppressed cultural values of religion and minority culture abroad.
Interneto svetainė
Kolekcijos pavadinimas
Archives for 20th–21st Century Hungarian Music - Lajtha, László (1892-1963)
Kilmė ir kultūrinė veikla
The collection contains documents in connection with László Lajtha's life as a composer and presents the opportunities he had under socialism, when he regarded as a déclassé element. After 1948, Lajtha returned Hungary, and he rejected the socialist ethos and politics of the era.

The collection contains letters, notes, scores of compositions and personal documents which enable one to follow the course of Lajtha's life as he became a world-famous composer and then lost his all jobs and opportunities in Hungary. After his death, his widow and heirs added to his legacy documents related to his life and work, so the collection presents his life from different perspectives: how has posterity reflected on his carrier, and how have different parts of his life been highlighted.

In the1950s, Lajtha composed a great deal. His most famous works were his masses. He was not allowed to pursue work as a composer, however, at this time, but rather was permitted to pursue a career as an ethnomusicologist. Under the socialist regime, he did not get a passport, he could not travel abroad, and he was kept under close control. His letters and personal documents reflect the feelings of isolation he had at the time.

Lajtha's bequest was separated into two parts in 2013. The folk music collection remained in the Hungarian Heritage House (Folk Music Collection of László Lajtha), and Lajtha's bequest as a composer was taken to the Institute of Musicology.
Turinio aprašymas
In this collection, one finds find many documents linked to László Lajtha's life and work. He was a world-famous Hungarian composer, so it contains his scientific writings and notes as well as scores of his compositions. He had several friends all over Europe, and he wrote many letters to his sons (who had emigrated), his French publisher, his friends, and his wife. The collection contains many official documents about his jobs and awards. Personal photos, pictures, journal articles, and invitations are also part of his bequest. Additions were made to his bequest because his widow and heirs thought it important to highlight Lajtha's extraordinary talent and collect documents after his death. This collection now presents his life, from the beginning to his death. In 2013, the Institute for Musicology cooperated with the Hungarian Heritage House and opened a memorial room, where Lajtha's personal objects from his Váci Street flat have been put on display.
Turinys
pilkoji literatūra (archyvų dokumentai tokie kaip brošiūros, atsišaukimai, pranešimai, slaptųjų tarnybų bylos, apskaita, juodraščiai, susirinkimų protokolai): 100-499
rankraščiai (ego dokumentai, dienoraščiai, užrašai, laiškai, brėžiniai ir t.t.): 100-499
Operatorius (iai)
Savininkas(ai)
Geografinė pastarojo meto veiklos aprėptis
Įkūrėjai
Turinio kūrėjai
Kolekcijos sudarytojas(i)
Svarbūs įvykiai kolekcijos istorijoje
Charakteringi eksponatai
Nuorodų sąrašas
Berlász, Melinda. Lajtha László. Budapest: Akadémiai Kiadó, 1984.
Erdélyi, Zsuzsanna. A kockás füzet. Úttalan utakon Lajtha Lászlóval. Budapest: Hagyományok Háza, 2010.
Solymosi Tari, Emőke. Két világ közt. Beszélgetések Lajtha Lászlóról. Budapest: Hagyományok Háza, 2010.
Solymosi Tari, Emőke. Lajtha László, a nemzeti és nemzetiközi mester. (Az életút összefoglalása és arcképvázlat). http://lajtha.hagyomanyokhaza.hu/index.php?menu=517
2020-02-17 19:03:56