Official memorandum in Vlado Gotovac's intelligence file on personal correspondence seized during a search of his home. 4 February 1972. Archival document.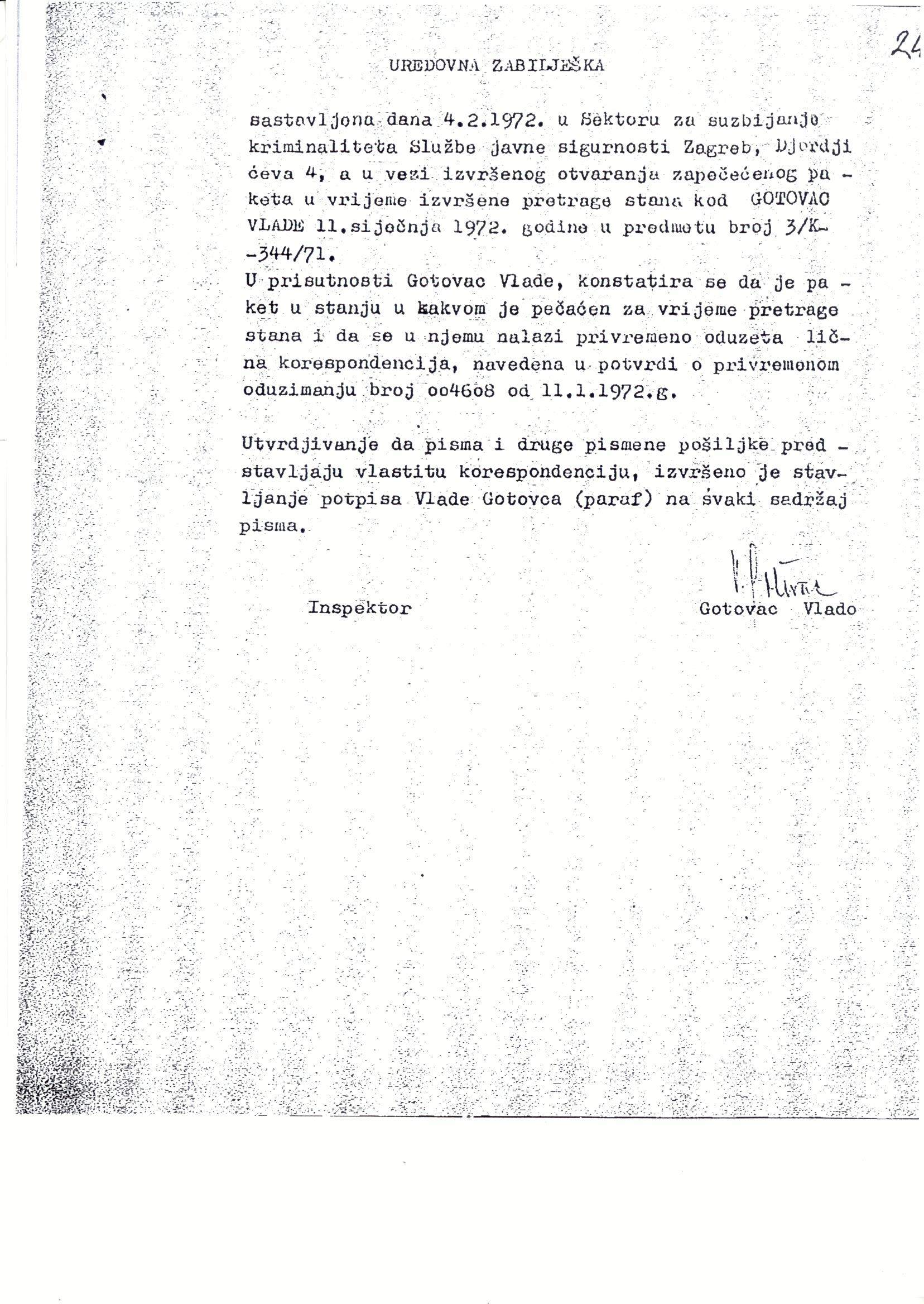 The State Security Service's collection of intelligence files also includes the files of intellectuals and other participants in the Croatian Spring. A significant number of documents in such files is related to criminal prosecution of these persons which followed the suppression of that reform movement in Croatia at the end of 1971.
This group also included Vlado Gotovac, a prominent Croatian poet, journalist, philosopher and politician (Imotski, 18 September 1930 – Rome, 7 December 2000). From July to December 1971, he was editor-in-chief of the magazine Hrvatski tjednik (Croatian Weekly), the newspaper of the Matrix Croatica, which advocated the programme of the national reform movement. As one of its leaders, together with ten other members of the Croatian spring, Gotovac was arrested on 11 January 1972 on charges of a "counter-revolutionary attack against the state and social order ," "conspiring against the people and state," and "other offences against the people and state."A search of their homes followed. In an annex to the report from 6 February 1972 "based on a review of written, published and other material temporarily sequestered during the search of Vlado Gotovac's home and office," there is a listed of 158 books (by émigré and other authors), Gotovac's writings, letters, poems, notes, notebooks and other items. On the basis of "friendly or business" correspondence, a list of 76 persons with whom Gotovac was in contact was drawn up. A significant number of the documents in Gotovac's intelligence file pertain to written records of hearings before the District Court in Zagreb and other documents related to proceedings in which, on 26 October 1972, he was sentenced to four years in prison, deprived of civil liberties for three years and the right to employment in the civil service, and his publishing and public activities were restricted. Ignoring the ban on public activities, after granting an interview to foreign journalists in 1977, he was again indicted and, after a trial in 1981, sentenced to two years in prison and loss of civil liberties for four years. He returned to public life at the end of the 1980s, but could only find employment after the restoration of democracy in 1990. The content of the file reveals that Gotovac was under the surveillance of the State Security Service since the mid-1950s. Among other things, the operational notes from that time contain the observation that Gotovac was "noticed as a very active young voice" of writers gathered around the journal Krugovi (Circles), whence a thread of Croatian nationalism began to spread" (HR-HDA-1561. SDS RSUP SRH. Intelligence files, Vlado Gotovac's file, no. 204605, Operational note, 30 July 1963).
Vlado Gotovac was the author of about twenty collections of poems and prose works. Additionally, he published criticism, essays, stories, radio dramas and engaged non-fiction texts in newspapers and magazines. It is interesting to note that Gotovac wrote even during his imprisonment in Stara Gradiška and Lepoglava. Such writings are preserved in his prison file, now also in the CSA in Zagreb. Referring to them at the meeting "Encounter with Gotovac" held in the Petit Local Library in Pula on 7 December 2015 on the 15th anniversary of Gotovac's death, his daughter Ana Gotovac said that they reflect "the immense efforts of a man, who was thrown into a place unthinkable to someone who wasn't there, to remain normal and to maintain his spirit and soul" (Angeleski, Z. 2015. "Svog sam oca doživljavala kao tatu, ali i kao heroja." GlasIstre.hr, 8 December).
The Croatian State Security Service file on Vlado Gotovac is registered under number 204605 and preserved on microfiche. It includes roughly 530 pages of documents. All of them are available for research and copying. So far they have been used by several researchers. It should be noted that Filip Zoričić from the Institute Mediterran is writing a doctoral thesis on Vlado Gotovac's life and work.
Signatūra
HR-HDA-1561. State Security Service of the Republic Secretariat of the Interior of the Socialist Republic of Croatia. Intelligence files. Vlado Gotovac's file, no. 204605.
Charakteringas eksponatas
Autorius
2018-05-14 13:02:26